(for norsk text se lenger ned på denne siden)
Rømmekolle is the Norwegian version of a fermented yoghurt-like milk dish also known as tettemelk, or in Finland as viili and in Sweden as filbunke or tätmjölk. Rømmekolle used to be made in many Norwegian homes with milk from local cows inoculated and fermented with local, microbial rømmekolle culture handed down through generations. In this project I am reviving this traditional, but rapidly vanishing, fermented milk culture that has roots in the Norwegian, Finnish and Sami cultures, and sharing it with others to spread the culture.
Rømmekolle culture originates from the sticky and carnivorous plant
Butterwort that sometimes contain the bacteria Lactobacillus Cremoris. People gathered the leaves and poured fresh milk over them and left it to ferment for a few days. The milk thickened and became rømmekolle. If the taste and consistency was good, you kept some of the rømmekolle to use as a seed-culture (tette) and this was then cultivated with raw milk, often for generations. If anyone ran out or lost their culture they would get new supplies from their neighbour or someone in the community known for their good rømmekolle. In this way rømmekolle was like the invisible glue in communities. Everyone shared cultures with each other and consequently also shared their bacterial gut flora, creating an interior, local, cultural bond between the people, the land, their animals and the microbes.
As time and progress eliminated the need for the family cow, home made rømmekolle also became less common. In the 50´s commercial dairies gradually took over the production of rømmekolle. People started buying it in the shops instead of making it themselves. But commercially made rømmekolle is not the same. The culture is pasteurised and the microbial community limited to a few components in order to produce a consistent and homogenous product.
When cultures die the know-how and experience of generations die with it. With the loss of bacterial cultures the bond created by continually sharing the culture with others Die. So does your relationship with the animals and the microbes that needs the milk from the animals and the help from humans to survive also disappears.

For this project I really wanted to get hold of a rømmekolle starter culture from an original source with roots in Finnmark and which had been cultivated for generations. This because the rømmekolle had a particular significance in this region where the climate was harsh and nutrients hard to come by in the long winter months. The nutritious fermented milk provided an invaluable source of nutrients and has been claimed to have kept people alive.
In Paskvik I met the 92 year old Ovidia Kurthi. She was good humoured, vigorous and healthy and she had made rømmekolle from an old culture   that had been in the family for as long Ovidia could remember. But unfortunately, fate had it that she should lose her precious rømmekolle culture only four months before I came to see her.  She had made her weekly rømmekolle as usual. In recent years she had made it by using milk bought from the shop. Suddenly one day it never set into rømmekolle. She could not believe it as she had made it just like this all her life! Why now? The theories were numerous. Ovidia even believed that god might have interfered and that there might have been a connection with her ceaseing to bake the traditional "lefse" bread. She often served rømmekolla with her lefses. Others I spoke with thought the reason might be that the milk could have been contaminated with traces of antibiotics. In recent years she had made her rømmekolle by using milk bought from the shop. As the rømmekolla is a bacterial culture a micro amount of antibiotics would eradicate the living microbes. It is said to be virtually impossible with today's stringent regulations, but according to some it very occasionally happen regardless.
I was thus four months late for the rømmekolle in Pasvik. It did not help either that Ovidia had shared the culture with her niece in Nesodden outside Oslo. She got been bitten by her cat when she was unfortunate to step on its tail, and was harboured in hospital for two months with a bad infection. So that culture also died, and sadly, so did Ovidia too only a year later.
After several attempts through newspapers and radio calls throughout Finnmark and letters to local Women's Institutes all over the country, I finally had to give up my living rømmekolle culture hunt. I was too late. The Rømmekolle had become a legend and rømmekolle making ladies had moved to heaven and taken their living cultures with them. The Røros Dairy had, however, managed to collect a few of these cultures before the last ladies departed, and are doing a great job of preserving this living cultural heritage.  But the living folk rømmekolle culture is now history.
When cultures die the know-how and experience of generations dies with it. So does the bond created by continually sharing the culture. With bacterial cultures their unique and specific relationship to place and the connection between humans and their local microbes also disappears.
Fortunately bacterial cultures are very resilient and can survive incredibly long in the dried state. They hibernate until conditions become favorable to come to life again. Ancient people must have known this and as their cultures were such an important part of their life they brought them along when they emigrated, e.g to America, dried on a handkerchief.
In New York I came across a yogurt culture that had emigrated from Romania and is still alive and sold over the counter in a precious Jewish cafe in Manhattan. Sandor Katz told me about this yogurt and he also told me a story about a viili, a Finnish fermented milk drink, which had emigrated from Finland with a family over 100 years ago. Lisa, who runs the small familybusiness Gem Cultures in Lakewood, Washington State, told me the following story when I wrote to her to learn more about the old viili culture that she keeps alive:
"My late Uncle Van who passed away at 97 would have been the last one of that generation you may have been able to talk to in our family. In addition, my father an only child has already passed away. So that brings you to my generation and yes, the Viili we have has been in our family over 100 years.

My Great Grandparents came from Finland and brought the Viili with them, dried on a corner of a handkerchief, rolled up and stored in a safe place until they arrived here. Once they arrived and settled here, they had 14 children and the Viili was passed to each of them, one of whom was my grandmother who of course gave it to my dad and now we care for it.

Our Viili did not survive all those years however due to any one person caring for it but many had a Viili, so if someone lost their culture for some reason they would just go get another one from Aunt Sally, Uncle Ed or Uncle Van etc (these were my dad's Aunts and Uncles) This is how is has survived so long.

As my Great Uncle Van was falling asleep in death a couple years ago, my step mother Betty (who used to own GEM Cultures) was there. He quietly asked her if she knew how to care for "the seed" and she assured him that she did know how to care for it. He was asking her to make sure the Viili was kept alive. Of course, Betty was already caring for Viili as they had started GEM Cultures in the 80's and Viili was one of their live cultures.

The moral of the story is with proper care a viili culture could out live you !"
I got really excited about this story and about the idea that a microbial culture could emigrate and survive on the other side of the world. I was inspired to conduct a cultural experiment and reclaim this exiled culture and return it to Scandinavia. Back to its roots. After all, Finnmark in the very north of Norway, has a strong link to Finland with many locals descending from Finnish ancestors seeking a better life on the northern coast of Norway where the fish was abundant and the gulf stream kept the waters clear of ice. I therefore got hold of some of this exiled viili culture that I now cultivate and share in the many Rømmekolle events I do.
My research also entailed interviewing people in Finnmark about the rømmekolle culture. I wanted to know everything. How it was made, how people ate it, how if was kept and how people shared it. What also became apparent was peoples relationship to their cows. I therefore started gathering cow stories too. People told me about sharing secrets with the cow whilst milking.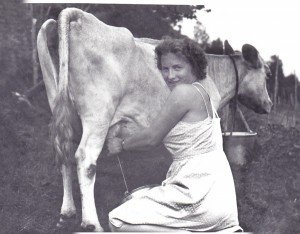 I even got told a beautiful story about a crying cow that was so precious that she had to stay at home whilst her friends where let out into the fields to play. It ended well, luckily, and she eventually got let out to play with the others.
This research is still ongoing and talking its own course and leading me in new directions. I am now starting a collaboration with a dancer to explore the movements of the microbes and how the patterns of microbial community can tell us stories of collaboration and resilience.
The original research was made possible through the residency program of Pikene på Broen in Kirkenes and the first manifestation of Rømmekolle Revival happened in the form of a café at the arts festival Barents Spektakel in 2015.